Etch a lasting mark on your students, inspire them to explore the world and learn in a classroom with no walls!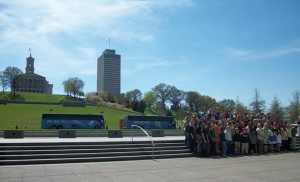 Blue Grass Tours is a leader in education and student travel with over 40 years of experience, having the expertise and associations to offer affordable packages to the most requested student destinations and beyond. We offer custom itineraries to meet your educational requirements whether you are looking for a one day field trip or a multi-day trip to cities throughout the United States and Canada. Our passionate and professional team of travel experts has access to a wealth of educational resources, maximizing your time outside the classroom with well thought-out itineraries at a great price.
Blue Grass Tours provides students educational travel opportunities where students link learning with life. Breathing life into a "Living Classrooms", we enrich student's lives by taking them beyond walls, allowing them to walk in the footsteps of icons and stimulating them by providing a unique and investigative educational program.
Teachers, schools and parents prefer Blue Grass Tours because we focus on safe and secure travel experiences, supporting you every step of the way as we plan and implement your educational experience. Parents especially like our all-inclusive trips as they see their child reach new levels of achievement. Students gain self-confidence from these experiences, laying the foundation for a lifetime of discovery and marvel at the encounters we provide that forever change their lives. Blue Grass Tours' passion for educational travel and our obsession with customer service and satisfaction has built a legacy of learning for our travelers.
When you choose Blue Grass Tours you can feel confident that you've made the best choice for your students. We move you and your students from the classroom to real-world situations, allowing them to experience educational opportunities first-hand. We welcome you as a member of our family from beginning to end of your trip, transporting you and your students safely there and back again. We invite you to join us as we inspire your students and provide tours that are not only educational but will also leave your scholars with memories that will last a lifetime!

We have Travel Consultants who specialize in Performance Groups and Education Groups
We can provide programs specifically designed for all disciplines to expand your student's knowledge, creativity and exposure for future opportunities. Whether you choose a trip to New York City to visit Broadway, participate in Music or Theatre Workshops, the Metropolitan Museum of Art, MOMA or a trip to Disney's Y.E.S. Programs, Universal's Education Programs, Music in the Parks Competitions, Sports and Athletic Programs… the opportunities are endless! Contact our knowledgeable, professional tour coordinators and leave the details to us!
Confucius say, 'I hear and I forget. I see and I remember. I do and I understand.'