HORSE FARM TOURS in Lexington, Kentucky – "BEST OF THE BLUEGRASS"
Discover the Best of the Bluegrass on your 3 hour horse farm tour.
Roll by miles of white fences, through Thoroughbred Horse Country as you see spectacular horse barns.
 Enjoy a behind-the-scenes tour at historic Keeneland Race Course (except afternoons during race meets) and see famous scenes from movies like Seabiscuit and Secretariat.
Experience downtown Lexington, Kentucky and hear the history, lore and notorious legends of the movers and shakers who lived here.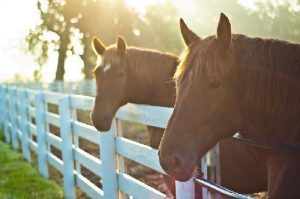 Get up-close-and-personal with retired Thoroughbred Stallions at Old Friends, a very special haven for horses in Kentucky. Pet and feed them all you want!
Convenient local hotel pickups:  Marriott Griffin Gate Resort, Embassy Suites and Clarion Hotel at Exit 115 off I-75/I-64  Hyatt Regency and Downtown Hilton in Downtown Lexington and The Campbell House and Holiday Inn Express on Export.
Give us a call at (859) 252-5744 or reserve online below:
Online booking is not available less than 24 hours prior to the tour, please call 859-252-5744 for open seats on the tours.

We require a minimum of 4 guests per tour.  Please call for availability.
Order Gift Certificates
A Perfect Gift for all Occasions!